Stump Holes

Stump and post hole drilling services at
Ace Drilling have been provided since 1969.


All operators have extensive training (including red card) and an operator with appropriate tickets and vehicle certification is available for most union job sites.

Equipment
Holes are dug with an Ace Drilling designed digger which has side slew and downwards pressure. Hole sizes of 250mm up to 600mm diameter are available.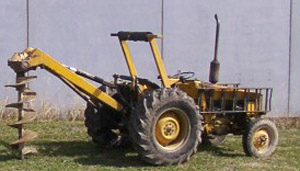 Maximum depth of holes is 1.5 metres.
Reef (rock) drilling and tree holes are also available.

Access
For access, the tractors require 2.0 metres in width and 2.0 metres in height in clearance. Ramps are employed to allow access to the inside of brickwork (maximum four courses).

Site Mark Out
Ace Drilling operators will only drill stump holes at locations marked by the supervising personnel, so jobs require marking out prior to
arrival. All hole locations shall be clearly marked with lime, paint or wooden pegs.
No string lines should be left after marking out, as our machinery needs clear access.
Likewise, no metal pegs (eg star pickets) are allowed as these can damage our equipment.